Spacious shop floor and counter space
You're up to your ears in workshop or body repairs, you need parts fast, and you can't afford to lose valuable time going to get them. It is a common phenomenon in the trade and one which fast and efficient North Down Motor Factors has really got to grips with. The detailed range of stock carried, combined with an exceptional delivery service means that the parts you need will be with you just in time.
While customers are encouraged to use the delivery service the recently refurbished premises are buzzing with life with increased counter space to cope with direct sales. An important element of the business is the staff/customer relationship which has been carefully built up over the years by long serving staff members who seem to enjoy the friendly atmosphere in North Down Motor Factors.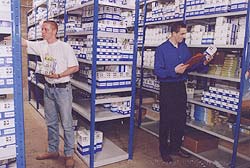 Sufficient stock levels
The company has been around since 1973 and in business for over almost 30 years. In the early 70's a need was recognised for a quality motor factor in the North Down area and right from the start it was seen as vital to carry only top brand names.
North Down Motor Factors not only offers a superb range of carefully selected, high quality branded products, it also ensures that the stock levels held mean customers are not kept waiting for 'out of stock' parts. At any one time North Down will have almost half a million items of stock.
Efficient delivery service
Ken Coulter (Managing Director) believes that personal contact with customers is very important and likes to visit them, especially those who are further away and come to the counter less often. The single most important aim of the company is to supply the customer with what they want, when they want it.
Attention to detail is the order of the day at North Down Motor Factors, in everything from choosing suppliers and stock management to counter sales, deliveries and administration. Underneath the happy atmosphere inside this busy factors, business is conducted in the methodical and entirely efficient way that makes North Down Motor Factors a pleasure for customers to deal with.